For most folks there is nothing more annoying than damage or cracks to their drywall. Large cracks, holes and other damages are not an easy fix for most people. Even more challenging are cracks or holes in your drywall ceiling. Overall, drywall repairs can be a daunting task for DIY'ers.
Luckily, Uncle John's Handyman Service is only a phone call or email away!
Our drywall mavens can handle repairs in any area of your home or retail establishment...we even cover frat houses! Whether you need a simple patch or entire walls replaced, we are the crew for you. Our drywall experts make sure the finish is paint ready, and we always do the job right the first time. We can make old walls look new again!
Typical drywall services we offer...
Repair Holes    
Hang Drywall    
Finish Drywall    
Texture Walls and Ceiling    
Repair Water Damage
New Drywall installation
Popcorn Ceiling Removal or Repair
Drywall Skim Coating
Plaster Wall Repair
New Ceiling
Drywall Patching
The key to perfect drywall is attention to detail in measuring & preforming the many separate steps to tape, sand, texture and finish each repair or new installation. Whether we are fixing a hole made by a doorknob or installing texture in a new build we strive to make sure every tape line, joint and corner is finished to perfection. We know our customers won't settle for less than top quality, and we won't either.
The typical repair can take several days...once we able the first layer of drywall mud it needs a day to dry. So plan on us popping in 2-3 days in a row for a short time.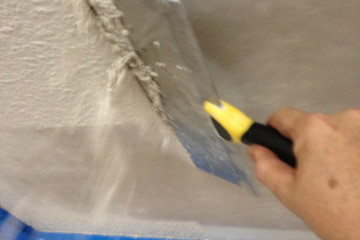 Here you will find a few of our drywall repairs which includes ceiling work.