For top notch Kitchen Remodeling Services in your home, look no further than Uncle John's Handyman Service of Columbia.
The kitchen is the hub of most homes, why not enjoy the space you & your family use so much?
We can handle small kitchen repairs or full on kitchen remodels. We have what it takes to get your job done!
We strive to make a kitchen remodel go as smoothly as possible. Not having a functional kitchen can be very stressful, our job is to make the kitchen of you dream happen. We can work with you to pick out materials...or you can go off on your own & DIY the design.
Our typical kitchen remodel is a top to bottom makeover, where we gut the entire room & redesign from scratch. We then build with the flooring, cabinets, counters, sink and backsplash along with new lighting and paint...making their dream kitchen complete.
Other clients who are on a budget or just need a bit of a facelift can pick & choose between new back splash tile, flooring, lighting and paint to make that old room look new again. The trick here is blending the old with the new to make it all flow together nicely.
Whatever your needs we can help with any phase of the planning and can even meet you at the store to help with your selections!
Our team can install...
Cabinets
Flooring
Back Splashes
Lighting
Hoods
Appliances
Sinks
Faucets
Propane Conversion
Under Cabinet Lighting
Water Lines
Your kitchen is an important part of your home, bathrooms and kitchens play a huge factor in resale value. Not to mention having a relaxing, well design kitchen is something everyone wants. No matter if you just want to fix a bit of drywall or go all out & put in a new island we are here to help you.
Experience & precision matter in kitchen remodels, you don't want someone without the proper training making your walls straight! Our crew typically does 1-2 kitchen remodels a month and have the skills to do the job right the first time. We put our name & reputation behind every job we do no matter what size the project.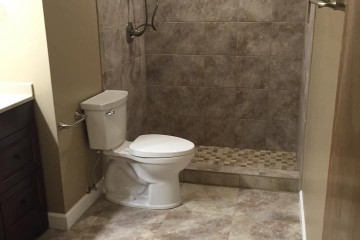 Here are a few examples of our tile projects. Everything from a kitchen backslash to replacement tiles in a retail store and even a few of our tiled showers.