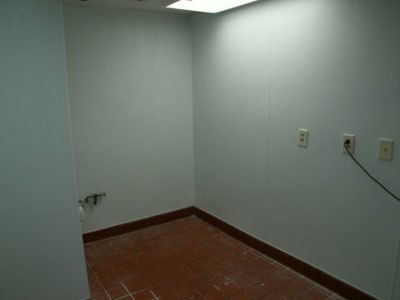 A local restaurant was in need or retrofitting their cold storage room.  They had extensive water and mold damage from the humidity in the room.  I removed sinks and work stations, the existing drywall, cleaned, and installed new drywall, with an FRP covering.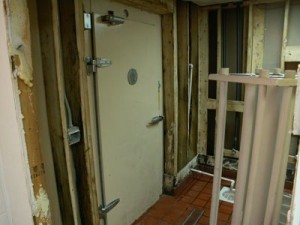 You are inside a cold room… in a restaurant. The room is just outside a large walk in freezer. The space is used to cut meat. It is not as cold a the freezer but it is very chilly…burr!
The problem was that this room develops moisture… that chiller puts out a lot of cold air that condenses when you get a lot of traffic in and out of the room.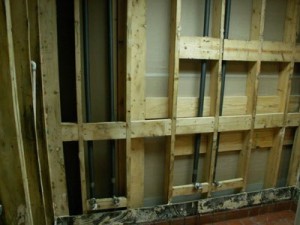 The walls had deteriorated to the point of "yech" and had developed mold.
Here I have removed the sinks and in all the pic so far… your seeing it after I removed the drywall…. I have no actual starting photos…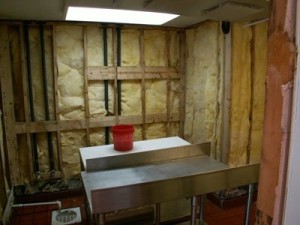 New insulation is added…and Framing is beefed up to support the sinks when re installed…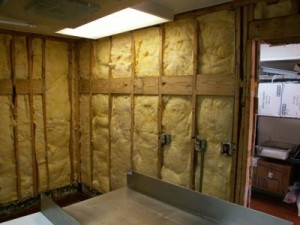 Shelving is installed eventually so the framing is added to support these shelves… the door was removed… and an air curtain installed. It's the door out of this room into the rest of the kitchen…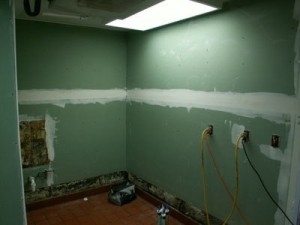 Almost the same view… but now the drywall is going up! I am using moisture resistant drywall for this project… that's why it's green.
So the drywall is up…. now what?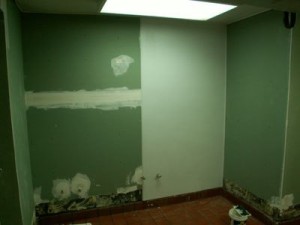 FRP is the answer. This panel is moisture resistant. It will shed the water well.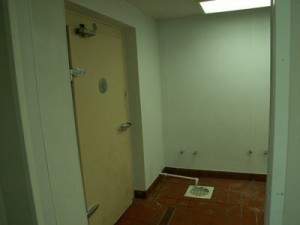 It looks much nicer!
It goes in with corner pieces for trim… and is glued in place.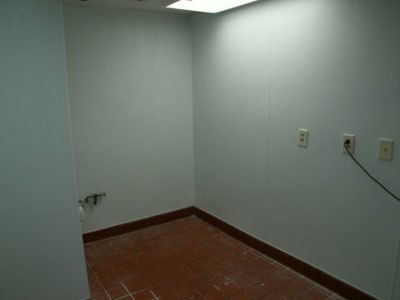 It really looks much nicer and will act as a good barrier to the moisture put out in this room.
All that now remains is to put the original fixtures back in place.